UB Cardinals continue to bag awards in local tilts as the University's boxing team under the guidance of Coach Marty Odasing won over-all second runner up at the World Council Combat Sports- Valiance 9 Amateur Boxing Philippines at the La Trinidad Municipal Gym, Benguet on April 15.
With only a month of preparation, the team bested several Baguio-Benguet boxers  including the award-winning Team Pinoy and Highland Boxers. Out of eight boxers from the  University of Baguio, six clinched medals from different categories. Bhonie Pacray and Jordan  Pais bagged gold. Justine Hernandez, Mory Dapiaoen, and Cyrus Ing-inga got silver while  Reagan Diwan was awarded a bronze medal. All boxers are from the School of Criminal Justice  and Public Safety except for Pacray who's still a young trainee from UB's Senior High School.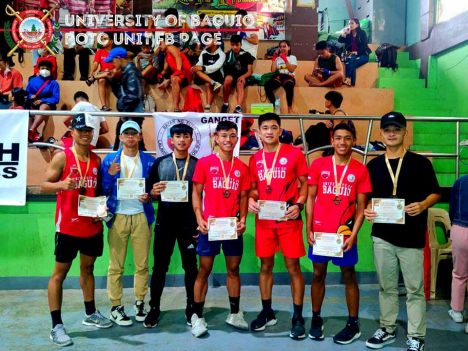 It is worth noting that the University has always been a strong supporter of student athletes with history tracing back to the University's patriarchal founder, Tatay Fernando Bautista. Tatay's goal of producing UB bred athlete who are globally competitive gave way to several student-athlete benefits which includes a scholarship while enrolled at UB.
Olympians Nesthy Petecio, Irish Magno, Eumir Marcial, and Carlo Paalam who all made  significant contributions to the Philippines during the Tokyo Olympics in 2020 were once trained  in the University of Baguio and has recognized UB as one of the contributors to their success during the Olympics.  
Article by: Ritchelle Valerie C. Espada